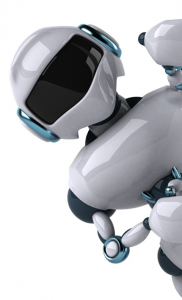 In my coverage of digital transformation I'd just like to touch on automation and the opportunities for exploiting RPA (Robotics Process Automation) and the adoption of cognitive RPA through the use of AI (Artificial Intelligence) and ML (Machine Learning).
The use of RPA is not new and its benefits are well documented. These include:
better management of repeatable tasks (21%);
reduction in error rates (21%);
improvements in standardisation of process workflow (19%);
reduction in reliance on multiple systems/screens to complete a business process (14%); and
creation of frictionless straight through processing – STP (11%).
The key realising benefits quickly is to automate end-to-end and not discrete processes
Gartner estimates the size of the market for RPA to be USD 2.4bn in 2022 with some 85% of organisations adopting it by then. In Gartner's 2018 Hype Cycle, RPA is indicated as moving from the 'peak of inflated expectations' to mainstream within 2 years.
There are many misconceptions about RPA especially the human factor. McKinsey Global stated that "people will need to continue working alongside machines to produce the growth in per capita GDP to which countries around the world aspire". The RPA technology delivers an elastic workforce capacity and can be leveraged by any industry. RPA does break and it needs robust control and governance. There are workforce implications especially when it comes to offshoring.
"People will need to continue working alongside machines to produce the growth in per capita GDP to which countries around the world aspire." Mckinsey Global, 2017
"Without proper governance, the benefits of digital labour can quickly vanish ." Kevin Kreon – PWC, 2017
RPA's evolution is in 4 generations as follows:
1st Generation: Attended Robotics:
Robotics optimizes existing manual and fragmented processes for agents
Reduction in low value
2nd Generation: Unattended Robotics with digital enablers
RPA removing need for agent input. OCR reduces or eliminates need for manual intervention due to using paper docs
Drives a significant increase in process speed and cost reduction
3rd Generation: Self service and automation
Customers self-serve via mobile or web
Robots fulfil the request with no human intervention
Robots update customers with progress slashing query volumes
4th Generation (I) : Robotic decisioning
Combination of Robotics with analytics and decision engines
Adds an element of judgement e.g. Classifying or extracting data from scanned documents
4th Generation (II): Cognitive Robotics
Combination of Robotics with analytics and Artificial intelligence
Cognitive Robot using Machine Learning or statistical modelling to continuously optimize action
My assessment is that most organisations are at 2nd or 3rd generation maturity in adoption. The bolting on of AI, OCR (optical character recognition), Automated Self-Service and Big Data Analytics will extend the reach of standard RPA towards cognitive RPA. This will provide powerful data orchestration, better data insight, continued optimisation, power decision making and thus high performance organisation. The upcoming RPA trends in 2019 can be summarised as follows:
Enhanced Deployment of RPA in Mainstream
RPA currently used by only 39 percent of businesses (Capgemini) with another 38% planning to do so in the next 12 months (Cisco Survey) – this will increase
Increased Job Opportunities
RPA will diversify human responsibilities and increase opportunities. However 7% of jobs that can be automated will be lost to automation (Forrester). Automation would enable orgs to redeploy their efforts towards innovation-focused roles versus operations only
RPA & AI/ML join forces creating digital workers (40% adoption)
25% of the companies believe that AI along with RPA will eventually change their need in operations. RPA is helping businesses to save time, cost and employee productivity. The cognitive era is the next era of RPA
Better Employee Engagement and Customer Experience
RPA is one step ahead so bringing more options like automated chat to make businesses consistent with customers. It will result in improving customer experience and building brand loyalty
RPA reimagines Talent Management
25% of leaders will use automation to address talent scarcity squeeze
Replacement of Outsourcing Jobs
In the next few years, RPA will have a great impact on the outsourcing jobs and associated business processes
Growth of AI, Big Data, and IoT
RPA robots can play an important role in analysing Big Data from AI and IoT, streamlining data processes and improves data management.
Making Enterprises More Scalable
With cognitive RPA making more autonomous decisions, the human workforce will be focused on higher-level tasks. It will result in making them more productive and innovative, thus increasing the efficiency and quality of their services.
So what were the key challenges that had hindered the mature adoption of cognitive RPA? These include:
Lack of maturity of data architecture to support AI: AI is data dependent and data hungry. Most organisations have maturity around basic data strategy and data governance. AI in most companies was confined to running proofs of concept.
The AI Hype did not help: The inflated expectations that AI would deliver powerful efficiency gains and new possibilities have not materialised in the mainstream and are still emerging.
Lack of clarity on how AI works: The ability to understand and audit RPA/AI processes is complex and opaque at best. Ability to understand and trust what AI is doing to operations and critical business and customer processes and data.
The future however is looking brighter with more companies resolving their data debt (data strategy and data governance); AI governance models are emerging; companies are experimenting more with AI/RPA to create business value and vendors are now producing more reliable tools and capabilities to support these efforts.

Author: Jacob Abboud – Chief Information Officer | Digital, Data & Agile Transformation | IT Cost Optimisation | M&A | Innovation | NED – FS (2020)