I have been involved in leading digital transformations in the insurance sector for nearly a decade. Scanning the insurance sector today, it seems that nearly every insurer is engaged in some form of digital transformation. I find the quote from Dr Jeanne W Ross [1] of MIT quite apt to describe what is happening "Even though digital is supposed to be all about speed, it takes a really long time". In this article I would like to step back and take a holistic view and reflect on digital transformation and the collective success of these initiatives within the insurance industry and, based on my experience, define the ingredients of what makes for a successful digital transformation.
It may be useful to go back to basics and define what Digital is:
it is the digital technologies to change a business model and provide new revenue and value-producing opportunities; it is the process of moving to a digital business [Gartner]

A digital business is able to capitalise on emerging growth sectors, optimises value from core business processes and is quick to evolve its organisation and technology [McKinsey]
It is also helpful to think about digital as being a combination of new digital business opportunities/propositions (e.g. connected home/car/pet or shared mobility within symbiotic ecosystems), coupled with Digital value in core businesses (e.g. digital claims or one stop self-service portals) that are underpinned by Digital foundational capabilities (e.g. digital platform, data analytics, RPA/AI [2] and DevOps in the cloud).
It is well recognized that digital companies outperform their non-digital counterparts. In a recent CIO Survey [3] 61 percent of companies deemed effective at using digital technologies saw higher revenue growth than their competition. According to McKinsey, B2B companies that master digital capabilities are generating 8 percent more shareholder returns and revenue CAGR that is five times greater than the rest of the field. Furthermore a recent Forrester survey shows that executives believe that by 2020, as much as 50 percent of their revenue will be driven by digital changes to their businesses. Therefore, the case for digital can be deemed to be well established.
So how well has the industry been performing in their digital transformation efforts? According to Gartner Survey in 2018 (population of 3,025 CIOs globally) it has been very slow. 17 percent have reached scale or are harvesting benefits, 74 percent are in early execution of planning stages and 9 percent have no digital business transformation at all. Not what you would have expected, right? So why has huge investment in digital transformation led to so little change?
Only 17 percent of companies have reached scale or are harvesting benefits from digital transformation
I put this question to C-Level Financial Services industry professionals in a Digital Innovation Forum meeting that I chaired recently. There was consensus in the room that dealing with legacy challenges had a significant impact on the progress of digital transformation in many organisations which was also a drain on budgets and effort. There was also the question of lack of digital strategy, ineffective execution and misguided prioritisation. The focus should have been more on implementing optimised journeys in the customer interaction layer, building ecosystems with partners as well as harvesting insight from data through adoption of advanced Big Data Analytics and AI. The reality though is that many insurers have tended to get 'bogged down' in the land of legacy backend systems. Significant investment (100's of millions) has gone into re-platforming insurance policy administration and claims systems in recent years. Whilst this is an important step for legacy modernisation, simplification, harmonisation and building on a de-coupled micro services architecture, the immediate result is not necessarily immediately visible to the customer. In addition, many insurers are still primarily operating in a traditional silo'd waterfall fashion which does not result in the required agility needed for digital transformation.
PWC reported in their '2019 CEO Survey Trends' that digital transformation is shifting from threat to opportunity but CEO's remain extremely concerned. A clear sign of this shift in sentiment is the easing concerns in the survey results (compared to 2018), specifically about the speed of technological change and other disruptive developments. The current wave of new technology investment focussed first on improving customer experience and reducing costs, it is now shifting towards new digital business models.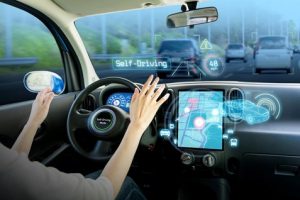 When considering the extent of this disruption in a given industry, the automotive industry for example, there are clear signs of a seismic shift. What can we read into the following quotes recently made by the leaders in this industry?
"I believe the auto industry will change more in the next 5 to 10 years than it has in the last 50" Mary T. Barra, CEO, General Motors.
we should expect an 'exponential' change in the motor industry compared to the last decade
"The car will be the most important device on the internet … and smarter than anything we can imagine today" Herbert Diess, Chairman of Board of Management, Volkswagen Brand.
It is interesting that the focus in the above statement is not on cars per se but on connected IoT devices
"We don't just manufacture vehicles, we provide mobility. That's our core business" Dr. Dieter Zetsche, Chairman, Daimler.
A clear focus in the statement is on the ecosystem of mobility rather than vehicles per se
So the pressure on companies to transform is high. Gartner's prediction is that some industries will be completely transformed by digital whilst others only partially. Some industries will discover that they cannot transform. Will these companies have the same fate as Kodak one may ponder?
At last year's Allianz Capital Market Day, Oliver Bate, the Group CEO, presented an analysis carried out by the insurance giant on what ONE thing that bothers customers about insurance the most (500 respondents in Germany). Complexity, Claims journey issues, price and intrusiveness are amongst the most prominent responses. Oliver Bate has underpinned The Allianz strategy on 'Simplicity Wins'. The transformation at Allianz is based on turning complexity into superior scale: simple fewer intuitive products (no surprises), digital by default based on enhanced data analytics and trouble-free processes without legacy and scalable harmonised products and processes with cost and revenue synergies.
Gartner identifies Digital Dexterity, which is the ability to gain value from digital initiatives and the speed to launch, as a key factor which can accelerate digital business transformation. Digital Dexterity profile is based on both ambition and ability to work digitally and to build digital businesses. With both the 'ability' and 'ambition' components present, Gartner suggests that digital business transformation can be accelerated by a factor of 3.3X. Agile ways of working through empowered autonomous digital cross-functional teams increases the impact on employees' likelihood to have high Digital Dexterity by 3.6X. This is made possible by providing the right environment to enable enterprise agility and by developing digital competencies and making Digital Dexterity a C-Suite priority.
For these reasons, more and more organisations are moving towards Agile and product-centric transformation. On average (population=185) organisations said that 45 percent of their development today was based on the Agile methodology. The proportion of their work based on product-centric model was 40 percent and expected to rise to 79 percent in 2022. Adoption of both Agile and product-centric development seems to increase with the size of the firm (i.e. based on FTE's). Agile can be 'turbo-charged' with DevOps and full automation in the cloud. Coleman Parkes Research suggests that Agile and DevOps in the cloud together could improve operational efficiency by an additional 41 percent and accelerates new business growth by an additional 63 percent. This ultimately will improve customer satisfaction/NPS by an additional 29 percent.
The prize for Agile Transformation therefore is big and worth working hard to achieve.
Many organisations have already embarked on product-based Agile (Agile at Scale or SAFe) transformation. These early adopters were the well-publicised ING and Spotify but others are at various stages of transforming. These include major global insurance companies & large banks. It is important to recognise that the methodology for transformation is not one size fits all – it is tailored to suit each organisation (based on appetite, culture, size, starting point etc.) but at the same time maintaining the product-centric and Agile themes.
77% of Agile Transformations Generally Fail
So how well are organisations faring with their Agile transformation journeys? Clearly there have been some stunning successes. However I was very interested to read Mark Buchan recent Book [4] where he states that 77% of Agile Transformations generally fail. His hypothesis for this failure is that these tend to be pseudo-Agile Transformations which focus on transactional change elements. According to Buchan, key factors for these failures tend to be due to:
Lack of informed dialogue between leaders and senior managers which results in Agile not being sufficiently understood leading to loss of investment of time, money and effort
Agile transformation not sponsored by the top (C-Suite) which can lead to interdepartmental politics that obstruct collaboration
Mind-set to run a complex transformation is less than Agile
Agile Transformation planned and run in a 'Waterfall' way by those organisations that are still very wedded to the traditional 'Waterfall' way of delivery
Important cultural change management is overlooked
The need for digital transformation to be driven by the CEO and the Board is essential
With all of the above in mind, the question I asked myself is whether there is a set of key ingredients that would make a digital transformation more likely to succeed? In my view, the need for digital transformation to be driven by the CEO and the Board is at the top of the list. What else should be on the list? well, here is my top 6 categories
Clearly innovation plays an important role in digital transformation whether it is through the adoption of new emerging technologies or the creation of new business models. In the banking world, people often refer to the disruption by challenger banks like Monzo and Starling. These companies are pure-play digital online banks. So what is the equivalent in insurance and what is the impact of InsurTech acting as a catalyst to initiate disruption?
We will we crack the code on our first try? Probably not. That's OK. It's part of innovation. Mark Fields, President and CEO, Ford Motor Co.
This topic will be the subject of my next article, so stay tuned…
Footnotes:
[1] principal research scientist, MIT Sloan Centre for Information Systems Research
[2] RPA is Robotics Process Automation and AI stands for Artificial Intelligence
[3] Harvey Nash/KPMG CIO Survey 2018
[4] A radical new strategy for leading successful Agile Transformations revealed, 2019

Author: Jacob Abboud – Chief Information Officer | Digital, Data & Agile Transformation | IT Cost Optimisation | M&A | Innovation | NED – FS (2019)